Difficulty Level: (Average weather conditions)

Meeting Point: Mikros Gialos
Day 1: 6.5 NM
Day 2: 6 NM
Day 3: 8 NM
PRICE INCLUDES
Experienced 4 Stars Sea Kayak leader
All top quality paddling, camping and safety gear.
2 Breakfasts
3 Launches
1 Meal (taverna)
1 Barbeque
Fruits & Snacks
VAT 24%
MUST HAVE
Swimming suit and hat,
Sun screen,
Sun glasses,
Water flask,
Towel,
Shoes that will get wet,
Light clothes, as well as some warmer one,
Rain jacket,
Head torch,
Camping pillow,
Sleeping bag,
Mosquito repellent,
Any medication needed for special personal medical condition.
Day 1:Beggining from Mikros Gialos beach, we cross the bay of Rouda, next to unique geological formations, showing the geological history of the area, we roam east, heading to our first stop…the small island of Thilia. A beautiful isolated island with crystal clear waters and small hidden beaches that will host us for swimming, snorkeling and lunch. We rest a bit and continue for the beach where we will be camping, just after Desimmi. There, we set our tents and prepare the fire for our BBQ.
Day 2: The second day of our trip begins with morning swim and breakfast. Then we roam to the very famous island of Scorpios, the island of Onassis. We will stop at the small beach with the photographic exhibition of Jackie Kennedi, where we will have the opportunity to swim in the turquise waters and enjoy a delicious snack. Our next destination is the wonderful ROcka Beach in Meganissi. At this point we will leave our kayaks and walk to the picturesque village of Spartochori with the wonderful view over the port. There will be time for pictures and walking in the narrow alleys around the village in the beautiful traditional area. After, we return to Rocka beach for lunch and relaxation. In the afternoon, following the sunset, we will be approaching the beautiful quiet beach of Ag. ioannis, where we will spend the night in tents, while a small tavern will offer us the opportunity to taste fresh fish and many traditional delicious dishes.
Day 3:Early in the morning we leave the beach of Agios Ioannis and we roam with south direction, between tall granite cliffs, a scenery only seen the movies and documentaries. On our way we will meet the cave of Giovanni and the cave of Papanikoli, the largest sea cave in the world. Rumors say that during the second World War the Greek submarine "Papanikolis" used this cave as a secret shelter, and this is how it got its name. We will stop for swimming on the shady beach in the cave and have the chance to admire the wonderful seabed. We continue rowing on the south side of Meganissi until our next stop, on a beautiful isolated beach for lunch and relaxation. Then, follows the last crossing of the trip to Lefkada, with a small stop in Kipos beach, where we will see the amazing red starfish colony on its bottom. Immediately afterwards we arrive at Mikros Gialos beach where is the end of this unique experience.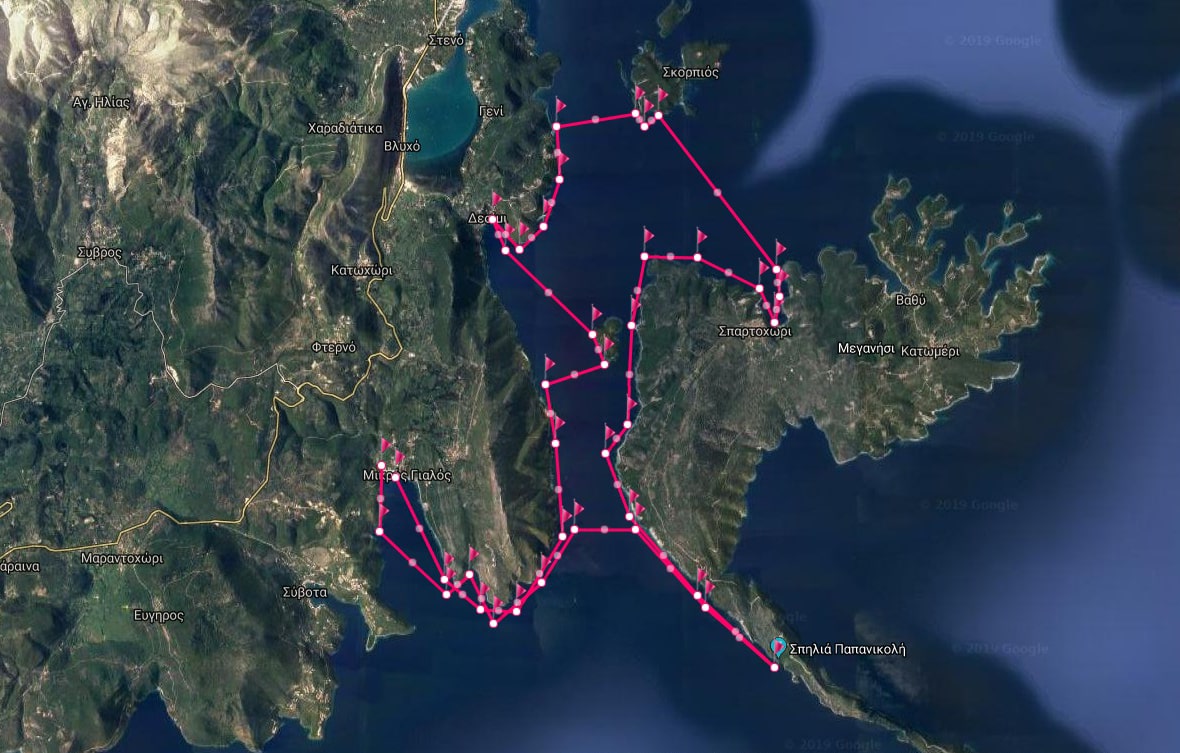 Additional Kayak programs